Profile of Mr.Job Asante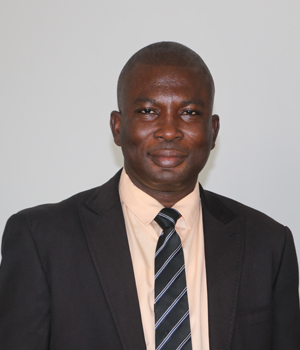 Mr. Job Asante is currently the Registrar of the Simon Diedong Dombo University of Business and Integrated Development Studies (SDD-UBIDS), Wa, Ghana. Prior to   his appointment Mr. Asante was the acting Registrar of SDD-UBIDS.  Mr. Asante worked for the Wa Campus of the University for Development Studies (UDS) now SDD-UBIDS for over thirteen years. He served as an Assistant Registrar at the Faculty of Education, Law and Business Studies (FELBS) and the School of Business and Law (SBL), UDS for about six years and Senior Assistant Registrar/Faculty Officer for the Faculty of Integrated Development Studies (FIDS), for two years. He was transferred to the Office of the Principal of the then Wa Campus of UDS as a Campus Officer (Campus Registrar). He also served as Acting Registrar of SDD-UBIDS at the rank of Deputy Registrar.
Mr. Asante holds a Master of Philosophy Degree in Educational Administration and a Bachelor of Education Degree in Social Science (Accounting, Management and Economics) from the University of Cape Coast, Ghana.
Mr. Asante is a Chartered Professional Administrator ((ChPA), a Chartered Management Consultant (CMC), a Chartered Economist (CE) Ghana and a Fellow of the Chartered Institute of Leadership and Governance (FCILG). He also holds a Professional Postgraduate Certificate in Administration and Management Consultancy and a Part Il of the Institute of Chartered Accountants Ghana (ICAG). Mr. Asante is a Member of Chartered Institute of Administrators and Management Consultants, Ghana (CIAMC); a Member of Institute of Chartered Economists, Ghana (ICEG); and a Member of Ghana Association of University Administrators and Professionals (GAUA); and a Member of the Chartered Institute of Leadership and Governance (FCILG), Ghana chapter.
Prior to his appointment by the University for Development Studies (UDS), he served as Assistant Registrar (Academic Quality Assurance Unit) at Takoradi Polytechnic, Ghana from January, 2009 to August, 2009; a District Budget Officer at Kwaebibirem District Education Office, Kade from January, 2007 to December, 2008; and an Assistant Budget Officer at Kwaebibirem District Education Office, Kade from September, 1999 to August, 2004.
Besides, he has attended several conferences and workshops on Human Resource Management, Office Management and Administration, Enterprise Risk Management, Management of Public-Private Partnership, Entrepreneurship, Total Quality Management, Public Sector Financial Management and Public Procurement among others. He has also authored and co-authored over twenty published articles in areas such as leadership, motivation, organisational performance, organizational management, educational management, educational leadership and administration, and finance. His research interest includes Educational Leadership and Management, Organizational Management, Performance Management and Managing Higher Institutions. Mr Asante is married and cumulatively has worked for twenty three years in diverse public institutions.
Email: jasante@ubids.edu.gh / jobasante72@yahoo.com