The SD Dombo University of Business and Integrated Development Studies (SDD-UBIDS) graduated 1,176 students at its maiden graduation ceremony held on February 24, 2023 at the Bamahu Campus.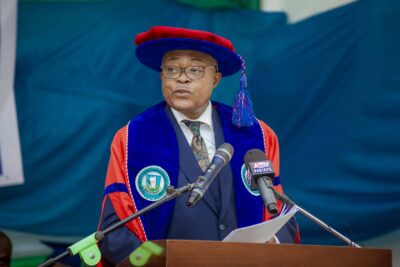 The Vice Chancellor Professor Philip Duku Osei delivering his address at the ceremony, acknowledged the close and strong collaboration of the University Council, the Executive Management and GTEC in accelerating the processes in the accreditation of programs he said this maiden graduation ceremony is a testament of the success of this tripartite working relationship.
Two years into its establishment as a university by the ACT of parliament (Act 1001 of 2019), the university has "streamlined and reorganised the three and half schools it succeeded into seven schools based on the mandate of the university". The latest school which the Council approved for the Academic Board, is the UBIDS School of Law. "The other schools are: the school of Business, the Faculty of Planning and Land Management, the School of Education and Lifelong Learning, the School of Social Sciences and Arts, the Faculty of Information Communication Technology, and the Faculty of Public Policy and Governance".
The Vice Chancellor said the university has been able to wither the storm through the economic turbulence across the world. The university "has enhanced and deepened its academic programming by adding a PhD in Migration and Security Studies. This is meant to help train the next generation of Lecturers and researchers who will ensure the sustainability of the Centre and the University".
Prof Philip Duku Osei indicated that the university "have taken the lead in Master of Business Administration Weekend programming in the country, and we will soon be adding Master of Education in the same weekend mode to it". He promised that UBIDS "in the coming years, intend to develop Open, Distance and eLearning (ODeL)".
The Vice-chancellor encouraged staff to conduct high-level research and publish in reputable journals. Under the auspices of the International Collaborations Office (ICO) Eleven (11) New Agreements were signed, and these were with the:
1. Institute of Development Studies, University of Sussex, United Kingdom (University Wide);
2. Palacky University Olomouc, Czech Republic (Faculty of Integrated Development Studies);
3. Università degli Studi della Tuscia (UNITUS), Italy (International Collaborations/School of Business);
4. Kosmos Innovation Centre Foundation LBG ((Mastercard Foundation) (University Wide);
5. Participatory Development Associates (Mastercard Foundation) (Department of Community Development);
6. FH Campus Wien, University of Applied Sciences, Austria (Faculty of Social Sciences and Arts);
7. University of Bonn, Germany (West African Centre for Sustainable Rural Transformation);
8. University of Western Ontario, Canada (University Wide);
9. Academics without Borders (Universitaires sans Frontières), Canada (University Wide);
10. Agence universitaire de la Francophonie (AUF), Canada, (University Wide) ; and
11. The African and Malagasy Council for Higher Education, Burkina Faso (University Wide)
The Vice Chancellor Professor Philip Duku Osei called on Government to "provide the fundamentals (including completion of the Library and Lecture Halls, projects that have been ongoing for over 10 years) for the university to take off".