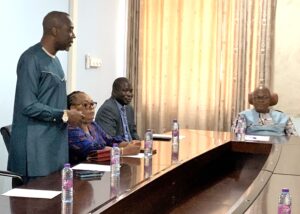 On March 13, 2023, the Chairman of the Vice Chancellors Ghana, Prof. Kwamena Kwansah-Aidoo
led a delegation from the Vice Chancellors' Ghana Secretariat to pay a working visit to the SD Dombo University of Business and Integrated Development Studies (SDD UBIDS), Bamahu Wa.
The delegation was received by the Vice Chancellor of SDD UBIDS Prof. Philip Duku Osei and the Registrar Mr. Job Asante. This was the first-ever visit of a sitting Chairman of VCG to the University.
The delegation from VCG interacted with the Deans and Directors of the University.
Prof. Kwamena Kwansah-Aidoo is the sitting Chairman of VCG and the Vice Chancellor of the University of Media, Arts, and Communication (UNiMAC).
The members of the delegation are Dr. Cynthia Sena Kpeglo, Executive Secretary, VCG, Dr. Sika Akoto, Chairperson, Committee of Registrars and Finance Officers (CRFO), and the Registrar of UNiMAC, Mr. Francis Obeng, Chairman, Finance Officers (FO's), Director of Finance, UNiMAC, Mr. Fidelis Abaare, Senior Accountant, VCG Secretariat and Mr. Hardi Imoro Adam, Administrator, VCG Secretariat.